Route map
Route service tel. No.: +370 676 51911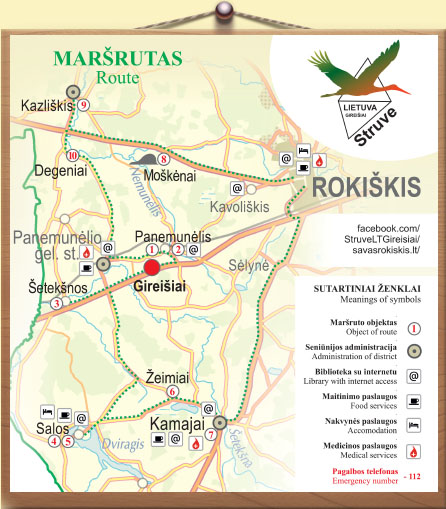 OBJECT OF ROUTE

 

OBJECT

Museum - traditional crafts center of priest and educator Jonas Katelė; presentation of "Struvė village". Panemunėlis.

Workshop of traditional craftsman Vidmantas Zakarka (spoons, wooden sculptures). Panemunėlis.

Etnographic homestead - museum of Joana and Antanas Tunaičiai (collections of keys, watches, radios and others). Šetekšnos.

Manor house of Salos (palace, park, programs of community crafts). Salos.

Traditional craftsman workshop of Igoris Kovalevskis (ceramic pots, vases, dishes and others). Salos.

Various animals and birds farm (educational programs) of farmer, painter Birutė Dapkienė. Žeimiai.

Monument and tomb of priest, poet, initiator of lyrical poetry Antanas Strazdas. Kamajai.

Moud with settlement of Moškėnai (Laukupėnai) - the end of I millenium BCE - the beginning of I millenium CE). Moškėnai.

Outdoor vases weaving workshop of teacher, craftswoman Daiva Čiučelienė. Kazliškis.

Philosophical residence and work space of wood carver Venecijus Jočys and representative of ethnoculture Eglė Samulytė. Degeniai.